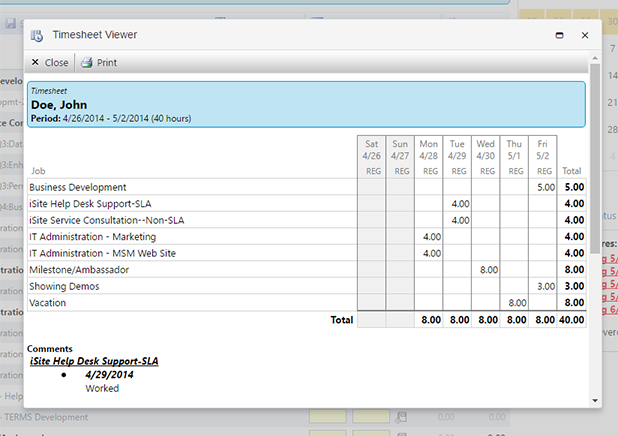 Our REALTIME Timekeeping provides an integrated time collection tool to track contract labor. Timekeeping should be an easy process: easy for employees AND administrators. Additionally, timekeeping should not be an "intrusive" function of your employees daily activities. We have taken these issues into consideration and have delivered an intuitive interface that is easy to use with minimal instruction. Employees can enter their daily time activities in three (3) easy steps. Most employees can complete their time entry requirements in under 5 minutes.
Approval Workflows – Approval Workflows are a powerful feature in REALTIME which highlights the  "paperless" environment of web-based timekeeping. When a user signs a timesheet at the end of a pay period, that timesheet can automatically be assigned an Approval Workflow for processing. Once an Approval Workflow is defined in REALTIME, your work as an administrator is complete. Timesheet approval notifications will automatically be generated based on the Approval Workflow template that you created.
Multi-level Approval Processes – You can assign one-to-many levels of approval when a timesheet is submitted.  Additionally, you can have multiple people assigned as Approvers to allow for backup and redundancy. Thus, once one person on that level signs the timesheet, the others no longer have to! Or, you can designate that ALL Approvers at an Approval Level must sign. The control is in YOUR hands!
Specialized Reports – With REALTIME, users can run reports on the data collected from the timesheet data entries, and we can create custom reports to provide you the details you need for your organization to operate effectively.